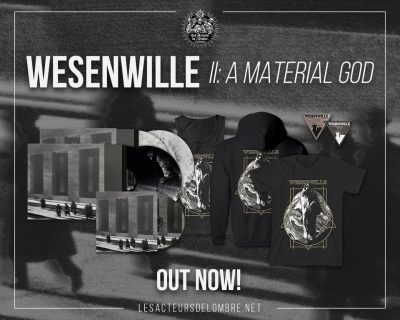 Wesenwille's new album 'II: A Material God' is out now!
Listen to the full album here: https://fanlink.to/wamg
ORDER the album and merch here: https://lesacteursdelombre.net/product…/bands/wesenwille/
The album is also part of our Coffret des Ombres of March (digipak or marbled white/black 2LP) and a patch as well as Mur's upcoming EP and a 20% off coupon code on our shop (except for the LADLO FEST II's tickets): https://coffret.lesacteursdelombre.net/
Bandcamp: https://ladlo.bandcamp.com/album/ii-a-material-god
🏆CONTEST
Do you want to win this album? Three winners will be randomly picked:
– 1 bundle of one LP + one enamel pin
– 1 bundle of one t-shirt or girly + one digipak
– 1 bundle of one digipak + one patch
To enter the contest, reply to this question in the comments section of our Facebook post: what does the artwork of the album depict?
End of the contest: March 19th at 18:00 CET.
Please, share and like to support us!
More info about the album and the band: https://lesacteursdelombre.net/wesenwille/
Thanks to Atmospheric Black Metal Albums, HARD FORCE, metal.de, Shoot Me Again webzine, Friedhof Magazine, Metalitalia.com, Zware Metalen and World Of Metal for premiering this album!