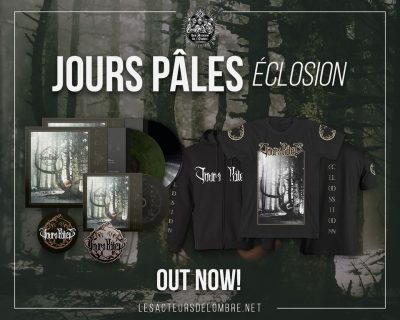 Jours Pâles' debut album is out now!
Listen to the full album here: https://fanlink.to/jpec
Order it, along with some merch, here: https://lesacteursdelombre.net/product…/bands/jours-pales/
Bandcamp: https://ladlo.bandcamp.com/album/closion
Biography:
Jours Pâles, the new project of Spellbound (Aorlhac) was born from the ashes of Asphodèle's first and only album, released in 2019 with Les Acteurs de l'Ombre Productions.
After the band's dissolution the very same year, Spellbound keeps the adventure going, composing with a desire for continuity as much as for fracture. That step beyond answers a will to express through the same states of mind as well as thick and dysthymic hazes, while freeing from past strangleholds, abandoning rock spirits for a stylistic evolution towards a metal that remains melancholic, but with more galloping and aggressive hints.
Éclosion, the first album of this new offspring, aims to be the personal assessment of a world that's more than ever considered as dislocated and tore apart, but above all a perpetual search for hope and light, through texts as much as visual aspect.
Far from flying solo, Spellbound surrounds himself with James Sloan on guitars (UADA, Grave Light) and Christian Larsson (ex-Shining, ex-Apati, Gloson). The backbone is completed by several guests: Graf from Psychonaut 4 and Lilas Ondine Dupont from Silhouette as well as Sylvain Bégot from MONOLITHE and Lonn from Aorlhac on solo guitars.
Safe from the world, waiting for the ultimate blooming, was born Jours Pâles…
Thanks to Atmospheric Black Metal Albums, Thrashocore, Shoot Me Again webzine, Friedhof Magazine, Metalitalia.com and World Of Metal for premiering this full album.