Hyrgal was formed in 2007 by the guitarist/vocalist Clément Flandrois (Pillars, Oorthian, Svart Crown) with the help of Quentin Aberne (Carcolh, ex-Sun Preachers, ex-Marble Chariot) as a bass player and Thibault Meunier (ex-Otargos) on drums.
The trio released its first demo on a split album with Kairn (acoustic project of the former Otargos guitarist, Julien Savy). They then opened for bands such as Wolves in the Throne Room, Year of No Light, Otargos…
In 2010, the band was put on hold for personal reasons, and Clément joined Svart Crown as a full-time guitarist.
In 2016, Clément decided to take back the project with a new drummer, Emmanuel Zuccaro (Oorthian, ex-Karne, ex-Sulphureign) with whom he had been in touch since 2012, and Quentin, still playing bass. Together, they present their first album Serpentine at the LADLO Fest in the end of 2018, shortly before Emmanuel and Quentin's departure. They are replaced by Nicolas Muller (ex-Svart Crown) and Alexis Chiambretto (Deveikuth).
Even if the line up went through some ups and downs, Clément and his new accomplices make a strong comeback with Fin de Règne in December 2020, and in the spring of 2022 with an unnamed album.
Words from the label manager, Gérald Milani :
"Would you believe it if I told you we almost missed out on this fantastic band …

For the anecdote, JB from Svart Crown sent me, during summer 2017, some tracks from Serpentine as a preview because he thought this album will perfectly fit with LADLO. Back then, I was in a personal torment, and I did not put much intention on this proposition, moreover our 2018 planning was already full. Yet, back from the 2017 Tyrant Fest, Tony from RLHT talked to me, in the most flattering way, about this album, released shortly before on Naturmacht Productions on CD. Clément (mastermind of Hyrgal, and ex-Svart Crown) shared those track with him when RLHT played at Marseille, in Fall 2017. This made my mouth water that much that I had to listen to the album as soon as possible : the next morning I contacted the band and asked the team what they thought about it. It was a general crush, it did not took much time to find some place for them in our planning, even if we could only produced the vinyl. You know that we prefer producing all format, but we really wanted to work on this album, and we hope that this is a first step to a long collaboration.

Words will never replace music, and the best thing for you to make up your mind is to listen to this awesome Serpentine. You will surely be touched, as I have been, by this energy, this primitive strength, almost instinctive, that hit you straight in the face like a tsunami. It is striking while offering in the same time smart compositions leading you through different atmospheres. I love everything on this album, from the French exacerbate singing to the subtle and perfectly placed lyrics, from the amazing riffs to the heavy and dissonant atmosphere, from the ever-present drums to its place in the sound spectrum.

A first try, yet very mature, that already makes this album a special one that we are extremely proud to share with you. "
LISTEN
---
Hyrgal | Release date : May 20, 2022
TOUR DATES
---
No shows booked at the moment.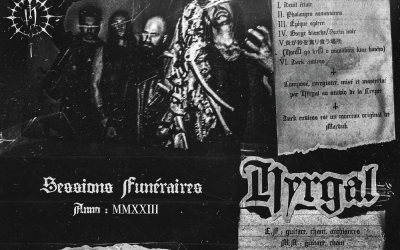 PHOTOS RELEASE DATE: April 07 2023ARTIST: HYRGALTITLE: Sessions Funéraires anno MMXXIIISTYLE: Metal noir Français / French Black metalORIGIN: FranceDURATION: 24min55LABEL: Les Acteurs de L'Ombre ProductionsNETWORK DISTRIBUTOR: Season of Mist / Plastic HeadDIGITAL...