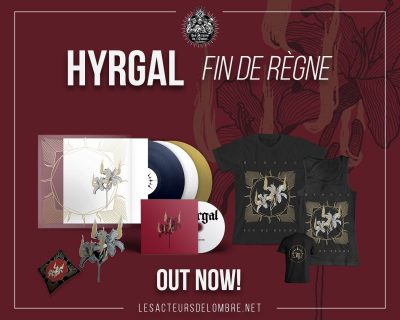 'Fin de Règne', the second album of the French black metal band Hyrgal, is out today.
Listen to the full album here: https://fanlink.to/hfdr
Order the album and merch here: https://lesacteursdelombre.net/product-category/bands/hyrgal/
'Fin de Règne' is also part of our Coffret des Ombres of December (along with a t-shirt from Hyrgal, Bait's latest album and a sampler from Antiq Label): https://coffret.lesacteursdelombre.net/
You can also order the digital album on our Bandcamp page (until tomorrow 9 a.m. CET): https://ladlo.bandcamp.com/album/fin-de-r-gne
To support musicians and labels during Covid-19, Bandcamp are indeed waiving again their revenue share on all sales.
/CONTEST/ To win the album and merch, head over to our Facebook page!
Artworks, sigils and drawings by LE CHIEN NOIR / www.instagram.com/lechien.noir
Graphismes and Layout by Guillaume Tocco / Guibz and Alexis Chiambretto
Thanks to Black Metal Promotion, HARD FORCE, Metalitalia.com, Friedhof Magazine, Shoot Me Again webzine and World Of Metal for premiering this album.