CORPUS DIAVOLIS' box is probably the most beautiful project of the sort we ever made. Limited to 100 copies, it contains gorgeous objects, most of them hand-crafted and exclusive, if not unique. It matches perfectly the esoteric concept of CORPUS DIAVOLIS and was thought, elaborated and crafted in close collaboration with the band. Thanks to this box, the sound experience will extend to your other senses. It encloses all the elements you need to perform a ritual, as well as a guide to help you out.
La box de CORPUS DIAVOLIS est probablement le plus beau projet de ce type que nous ayons fait. Limitée à 100 exemplaires, elle renferme de splendides objets, pour la plupart artisanaux et exclusifs, voire uniques. Totalement en adéquation avec le concept ésotérique de CORPUS DIAVOLIS, pensée, élaborée et fabriquée en étroite collaboration avec le groupe, cette boîte vous permettra d'élargir l'expérience sonore à vos autres sens. Elle comporte tous les éléments nécessaires au déroulement d'un rituel, ainsi qu'un guide pour vous y aider.
In a numbered wooden box // Dans une boîte en bois numérotée 
*A mantra and a ritual guide / Un mantra et un guide de rituel
*A small rosary // Un petit chapelet
*A big rosary // Un gros chapelet
*An incense vial with coal // Une fiole d'encens avec du charbon
*A matchbox // Une boîte d'allumettes
*A metal incense burner // Un brûleur d'encens en métal
*A candle // Une bougie
*A shrine cloth // Une nappe d'autel
*A Tshirt // Un T-shirt
*A numbered card, signed by all the band's members // Une carte numérotée et signée par les membres du groupe
*A 3-panel digipack CD with pantone printing and cut-out // Un CD digipack 3 panels impression pantone et découpé
*A vinyl with sleeve and pantone print insert // Un vinyle avec pochette et insert impression pantone
The Rosaries // Les Chapelets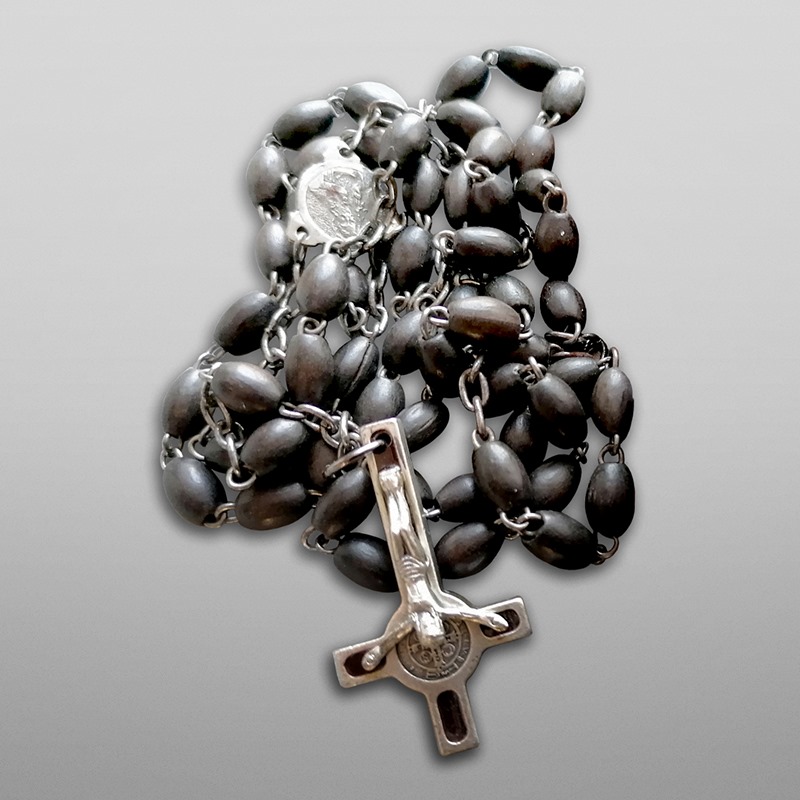 Manufacturing:
These antique and religious relics have been restored, and the crosses were reversed by us during our latest label gatherings. They were all collected over the past 8 months in thrift stores, flea markets and other picturesque places all around France. Each rosary is unique and has lived through at least one mystical existence. Some date back to several decades ago, if not to the beginning of the century, all worn out by the passing of time and generations.
Fabrication :
Remise en état et croix inversées par nos soins lors de plusieurs ateliers bricolages label et chinés aux quatre coins de France pendant près de 8 mois dans les Emmaüs, les brocantes et autres lieux pittoresques. Chaque chapelet est unique et a vécu une, voire plusieurs existences mystiques réelles. Usés par la rudesse du temps qui passe et les générations qui se suivent, certains d'entre eux datent de plusieurs dizaines d'années, voire du début du siècle.
Concept:
A rosary is a ritual tool used to recite formulas and mantras in a repetitive manner while counting the string of beads. The practitioner can thus achieve a modified state of consciousness. By reversing the values of its original use, the band underlines its willingness to reject all religious, blind, and meaningless customs in order to encourage individuals to seek rituals that suit their own personalities.
Concept :
Le chapelet est un outil de pratique rituelle, il permet de compter, en égrenant les grains, des formules et des mantras, récitées de manière répétitive. Le praticien s'en sert afin de se plonger dans un état de conscience modifiée. L'inversement des valeurs de l'emploi d'origine souligne la volonté du groupe à s'opposer à un usage religieux, aveugle et dénué de sens afin de pousser les individus à rechercher des rituels qui conviennent à leur propre personnalité.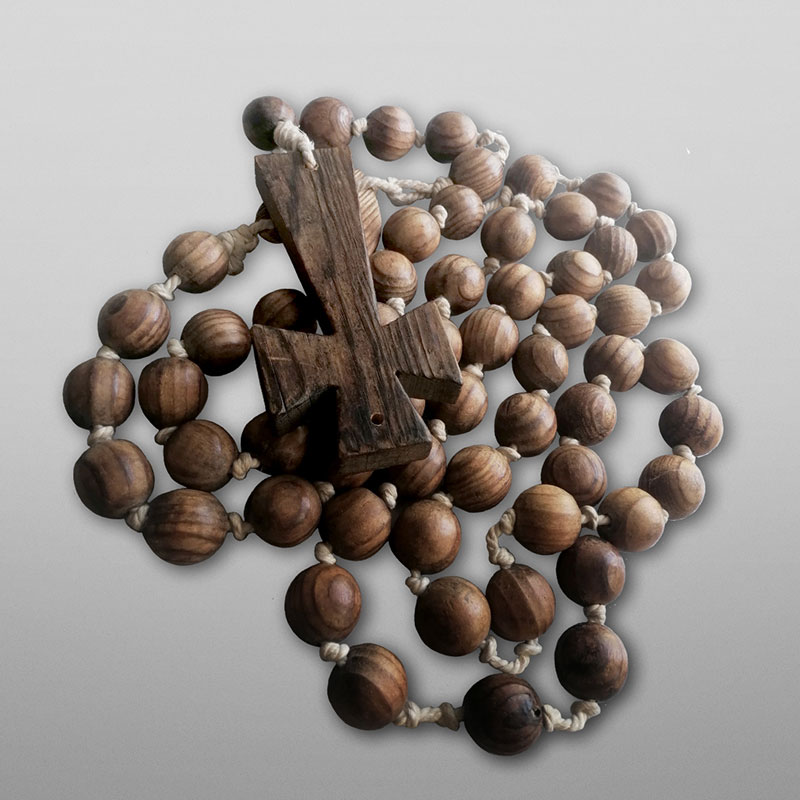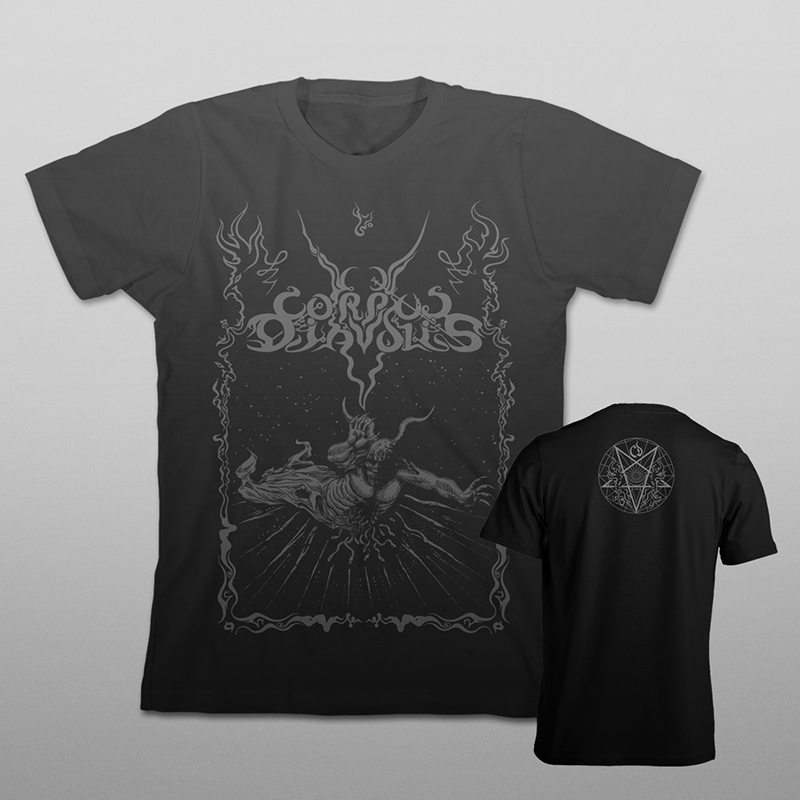 Manufacturing :
Screen printed by our service provider L'atelier du Grand Chic. The design is entirely handmade by Eoden, illustrator for the magazine La Voix de Satan and member of the collective Alliance Mystique de Satan Glorifié.
Fabrication :
Sérigraphié chez notre prestataire L'atelier du Grand Chic. Le graphisme élaboré entièrement à la main est l'œuvre d'Eoden, illustratrice pour le magazine La Voix de Satan au sein du collectif Alliance Mystique de Satan Glorifié.
Concept:
The visuals highlight Satan, who here takes on the appearance of the primordial androgynous Baphomet. The figure is surrounded by the element of fire and holds a freshly extracted heart in its hand – a universal emblem which refers to overflowing and destructive passions. It evokes desire, ardour, intelligence and knowledge.
Symbolically, Satan rips out a man's heart to show him this inner temple which contains the divine essence that is nowhere else to be found but within ourselves. This search for oneself requires sacrifice.
Concept :
Le visuel met en valeur Satan qui prends ici l'apparence de l'androgyne primordial Baphomet. La figure est entourée de l'élément du feu et tient dans la main un cœur tout juste extrait. Emblème de l'amour universel, le cœur renvoie aux passions débordantes et destructrices. Il évoque aussi bien le désir, l'ardeur, que l'intelligence et la connaissance. Symboliquement, Satan arrache le cœur de l'homme pour lui montrer ce temple intérieur qui seul contient l'essence divine qui n'est nulle part ailleurs qu'en nous-même. La recherche de soi-même demande des sacrifices.
The Wooden box – The Certificate
Manufacturing:
This birch wood box was crafted by a small French factory and its hinged lid screen printed by Le Grand Chic. Then painted by us. The certification accompanying the box is numbered and signed by all the musicians.

Fabrication :
Fabriquée par une petite usine Française, cette boîte en bois de bouleau et couvercle avec charnière sérigraphié par Le Grand Chic à été teintée par nos soins. La certification accompagnant la box est numérotée et signée par l'ensemble des musiciens.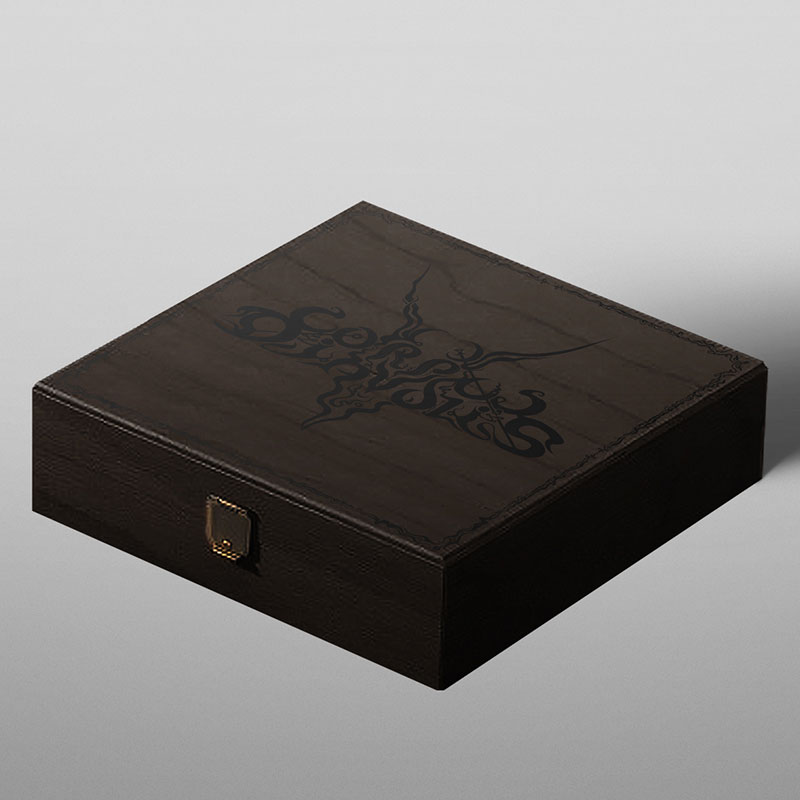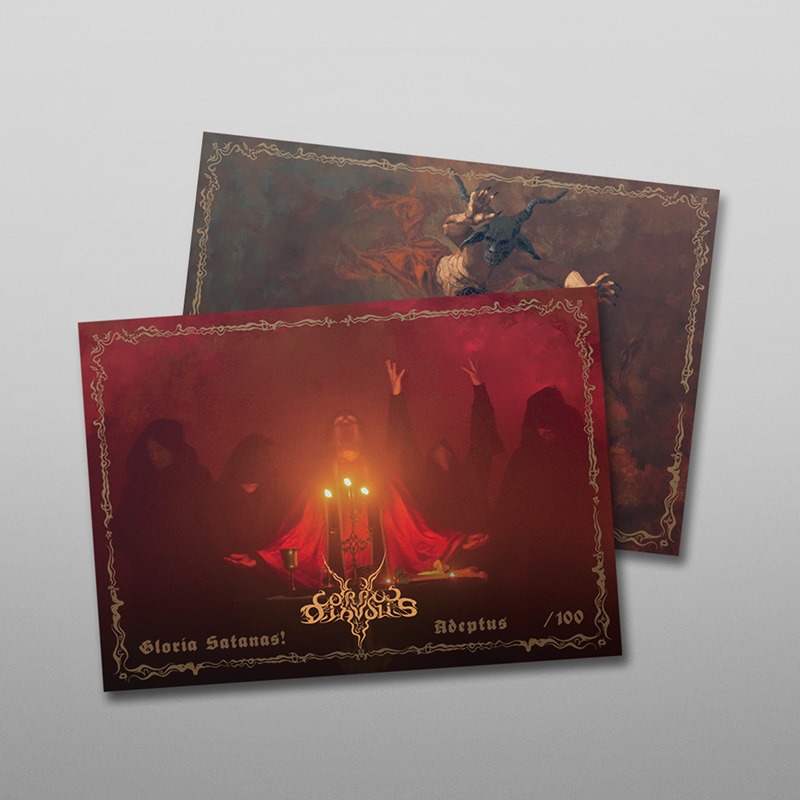 Concept:
This box is like our little Ark of the Covenant, it contains all the necessary elements to go beyond the sound experience and venture into the Esoteric. We've kept a sober design, so that the objects are first and foremost functional, and not a bunch of promotional goodies. This Pandora's Box is more than just a collector's item. It is intended for those of you who have always wanted to take a step towards satanic practices.
Concept :
Ce coffret est notre petite arche d'alliance qui contient tous les éléments nécessaires pour aller au-delà de l'expérience sonore et s'aventurer dans les méandres de l'ésotérique. L'ensemble a été conçu de façon sobre afin que les objets soient fonctionnels et non un ensemble de goodies promotionnels. Plus qu'un produit collector, cette boîte de pandore s'adresse à ceux qui ont toujours voulu franchir le pas vers la pratique satanique.
The Candle – The Matchbox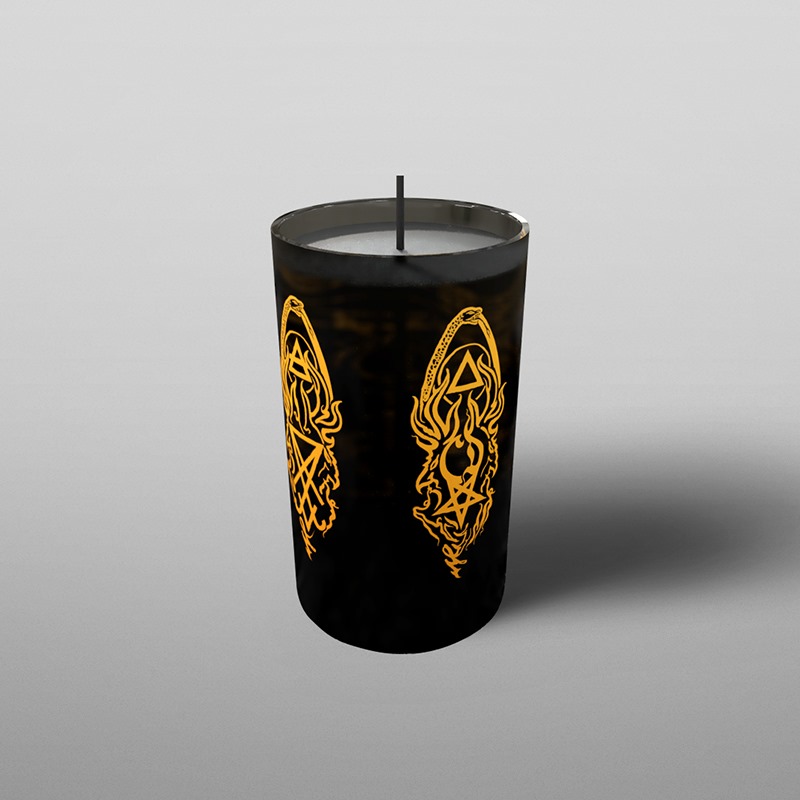 Manufacturing:
We contacted the same company that crafted the matchboxes for the 800th anniversary of the Notre Dame de La Garde cathedral in Marseille to obtain an astonishing object that is as beautiful as it is useful.

The candle alone (7cm diameter *17cm high) already is a piece of art. 
The glass was screen-printed according to Daemonicreator's conception and design, and the candle painted and cast by the label during long autumnal and crafty evenings. Once completely burned out, it can also be used as a candle jar.
Fabrication :
Nous avons contacté la même entreprise qui a fabriqué les boîtes d'allumettes pour les 800 ans de la cathédrale Notre Dame de La Garde à Marseille afin d'obtenir un étonnant objet aussi beau qu'utile. 
La bougie (7cm de diamètre et 17 cm de haut) à elle seule représente une pièce d'art au sein du coffret. Verre sérigraphié selon la conception et le dessin de Daemonicreator, puis teintée et coulée lors d'ateliers par l'équipe du label durant des longues soirées automnales, cette bougie une fois terminée pourra également être utilisée comme photophore.
Concept:
Fire symbolises purification through understanding – and in its most spiritual form, through light and truth.
The matchbox is handy for lighting your candle and coal, but is also a tribute to the early days of Norwegian black metal. Ignite the Luciferian flame in your ritual, or perhaps something more ancient…
Concept :
Le feu symbolise la purification par la compréhension, jusqu'à sa forme la plus spirituelle, par la lumière et la vérité.
Pratique pour allumer votre bougie et votre charbon, la boîte d'allumettes est également un clin d'œil aux débuts du black metal Norvégien. Allumez la flamme Luciférienne dans votre rituel et peut être quelque chose de plus ancien…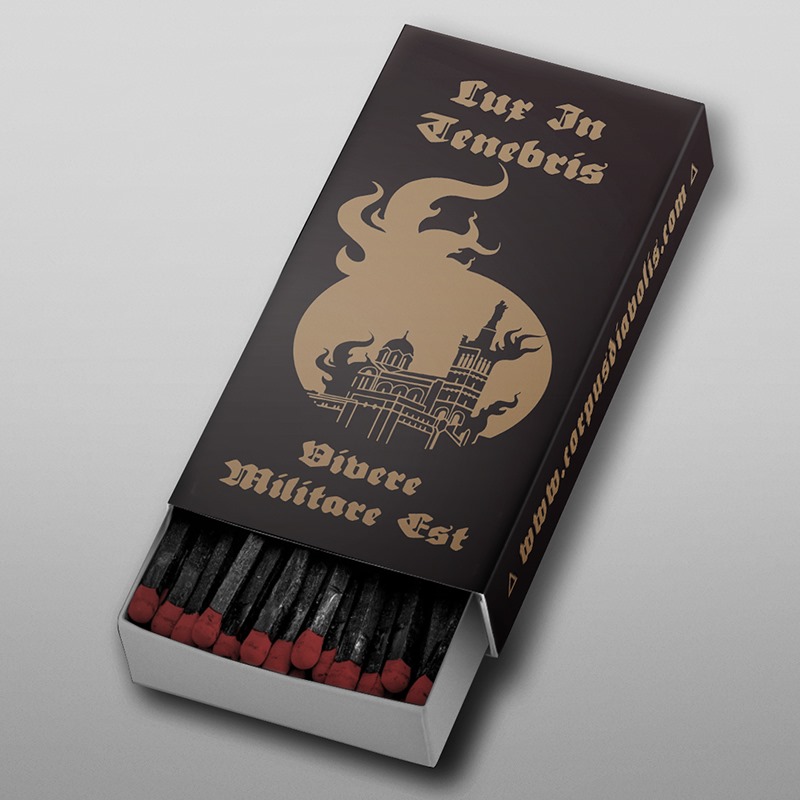 The Incense vial and its metal incense burner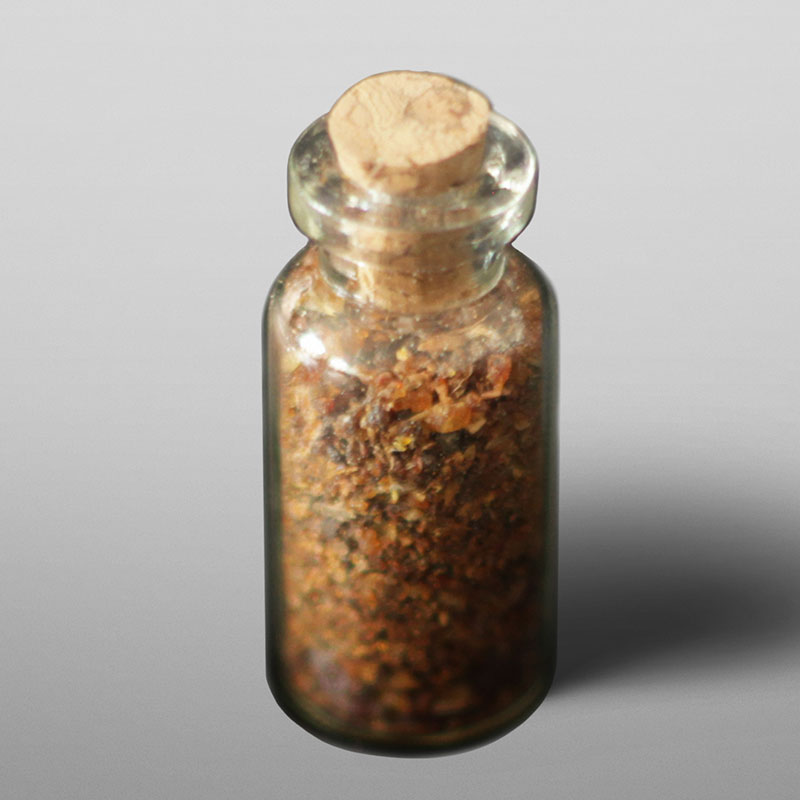 Manufacturing:
The zinc alloy incense burner was pictured and designed by Daemonicreator, then cast and enameled by the same partner that crafts our metal pins and coasters.
An astonishing object with a diameter of 10 cm and a perfect finish.
Fabrication :
Conçu et dessiné par Daemonicreator, le brûleur d'encens en alliage de Zinc fut moulé et émaillé par le même partenaire que nos pin's et sous-verres en métal. Un magnifique objet de 10 cm de diamètre aux finitions irréprochables.
Concept:
This unique satanic censer bears Corpus Diavolis's coat of arms.
The pentagram mingles with the band's sigil, which was inspired by the art of Austin Osman Spare and Andrew Chumbley and created with the help of Astral Odyssey Tattoo.
We strongly recommend the use of charcoal, but incense sticks and cones can also do.
The box contains vegetable charcoal and a mixture of incense grains specially prepared for this release. In the satanic ritual, incense symbolises the vital breath and the element of air, while its particular smell encourages the practitioner to focus.
The satanic incense's exact formula is only transmitted to the initiates. 
Concept :
Un encensoir unique et satanique portant les armoiries de Corpus Diavolis. Ici le pentagramme obligatoire cohabite avec le sigil du groupe, inspiré par l'art de Austin Osman Spare et Andrew Chumbley et réalisé avec l'aide d'Astral Odyssey Tattoo. Ce brûleur d'encens permet l'utilisation de charbon (recommandé), de bâtons et des cônes d'encens.  
Un charbon végétal et un mélange de grains d'encens spécialement préparé pour cette sortie sont inclus dans le coffret. Dans le rituel satanique l'encens symbolise le souffle vital et l'élément de l'air alors que l'odeur particulière favorise la concentration du pratiquant. La formule exacte de cet encens satanique se transmet uniquement entre initiés.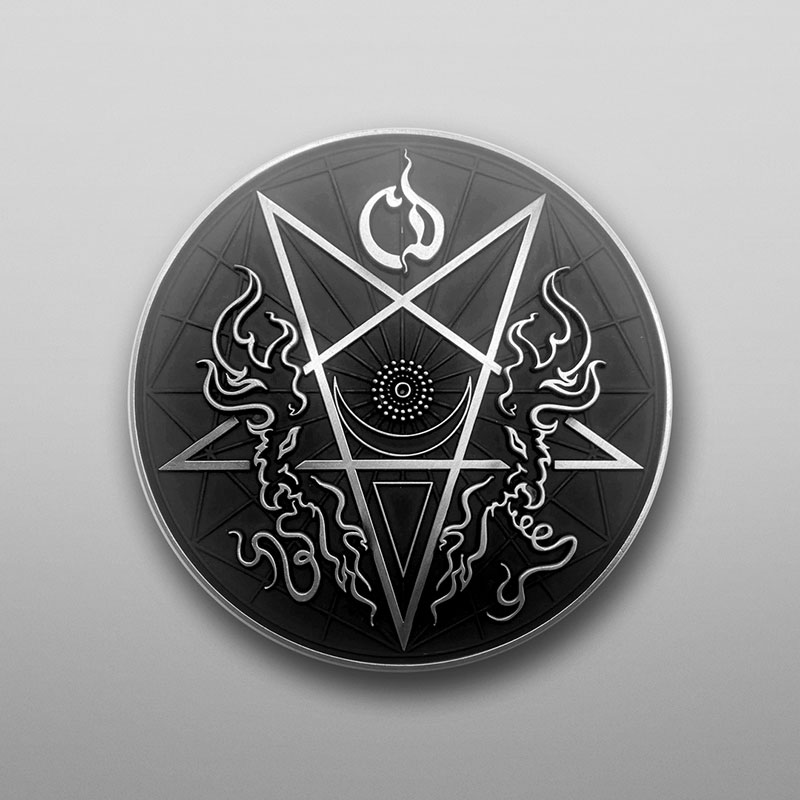 The Shrine cloth, the mantra and the ritual guide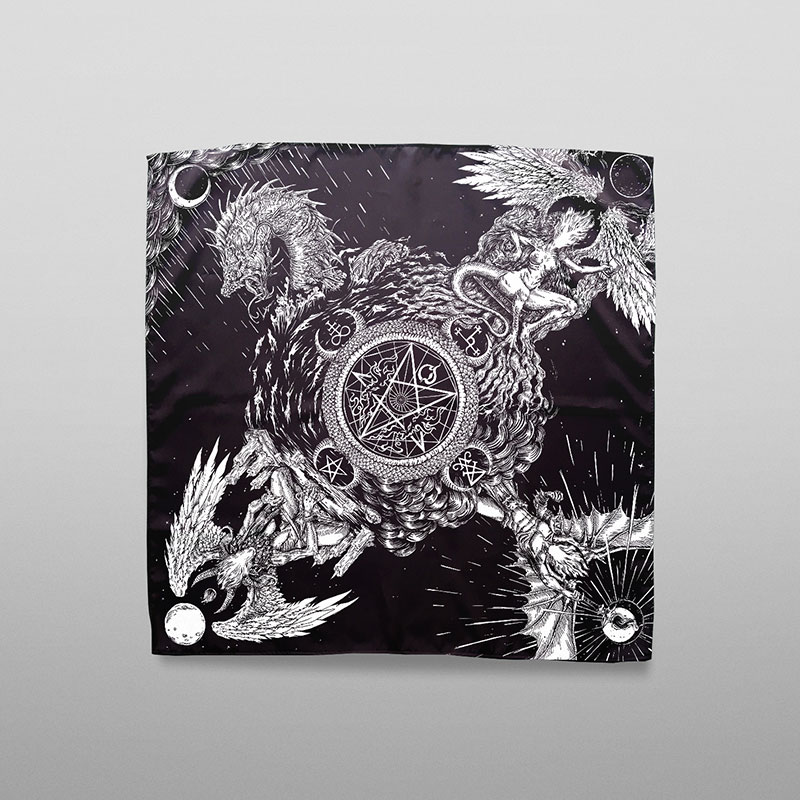 Manufacturing:
Hand-drawn and signed here again by the artist Eoden, this cotton altar cloth was carefully screen-printed at the Atelier du Grand Chic.
Fabrication :
Dessiné manuellement et signé une fois de plus par l'artiste Eoden, cette nappe d'autel en coton est sérigraphiée avec soin par L'atelier du Grand Chic.
Concept:
The altar is above all the table of Satan. It also is the vehicle for the sacrifice, which must necessarily take place there in order to reach divinity. Having an altar in your home and maintaining it allows you to focus on and develop your practice. Our altar cloth is adorned with the four infernal governors and their seals. They symbolize the four elements: fire, water, earth and air, the four cardinal directions, the four seasons and the four phases of the moon. Place your censer in its centre. This altar cloth can also be used for Tarot readings.
The box comes with a parchment with a ritual written by Daemonicreator, one of the founding members of the Alliance Mystique de Satan Glorifié and editor of the magazine La Voix de Satan. This short ritual provides an introduction to the esoteric practice and guides the Adept towards the use of all the tools the box contains.
Concept :
L'autel est d'abord la table de Satan. C'est aussi le véhicule du sacrifice, qui doit obligatoirement s'y dérouler pour parvenir à la divinité. Avoir un autel chez soi et l'entretenir permet de se concentrer sur sa pratique et la développer. Notre nappe d'autel est ornée des quatre gouverneurs infernaux et leurs sceaux. Les gouverneurs symbolisent les quatre éléments : feu, eau, terre et air, les quatre directions cardinales, les quatre saisons et les quatre phases de la lune. Au centre se trouve l'emplacement pour encensoir. Cette nappe d'autel peut également servir pour les tirages de Tarot.
Le coffret est accompagné par un parchemin contenant un rituel élaboré par Daemonicreator, membre fondateur de l'Alliance Mystique de Satan Glorifié et rédacteur de La Voix de Satan. Ce rituel succinct est une sorte d'introduction à la pratique ésotérique et guide l'Adepte vers l'utilisation des différents éléments proposés dans la box.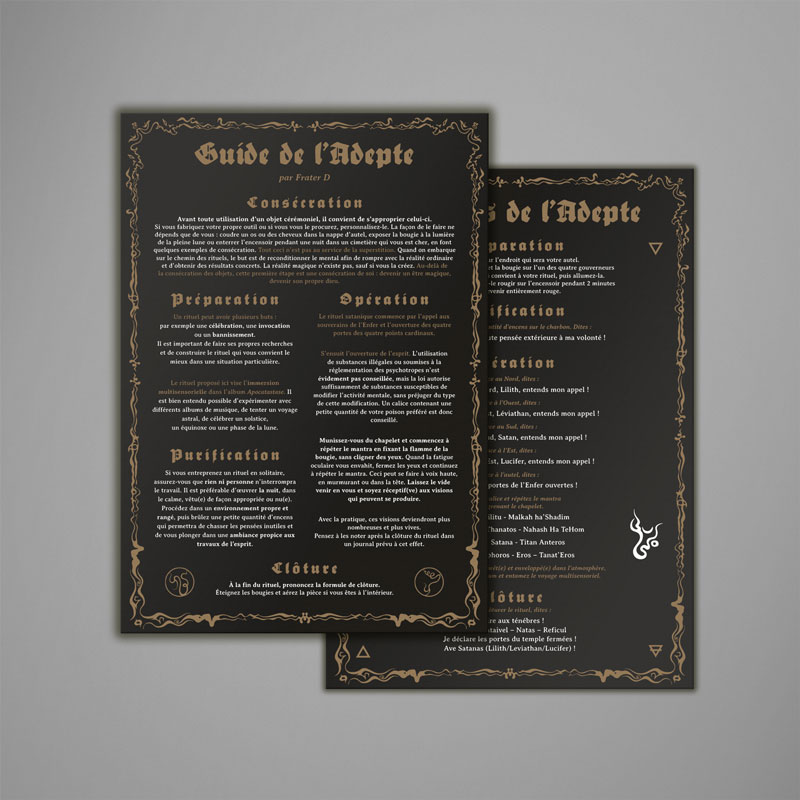 The Digipack and exclusive marble LP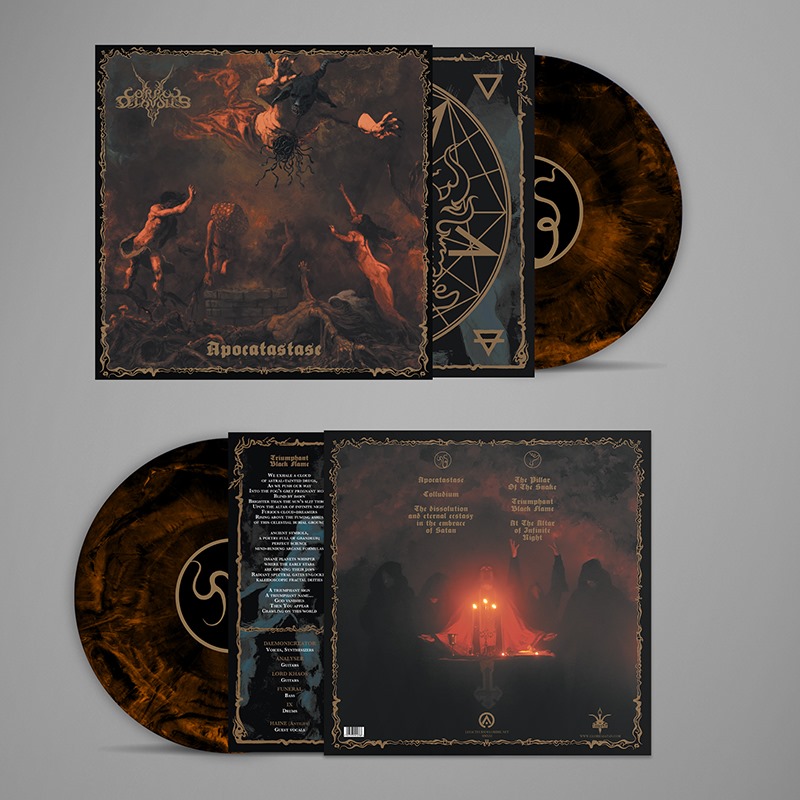 Manufacturing:
The visuals of these stunning objects were created by Khaos Diktator and carefully laid out by our graphic designer Guillaume Tocco, based on illustrations by Eoden and Daemonicreator.
The CD format consists of a 3-panel digipack printed in quadri colour with gold pantone 974C and a transparent CD housing on the central panel. The third panel includes a triangle cut-out that reveals the graphic elements of the 12-page booklet's back cover, also printed in quadri colour with gold pantone 974C.

The vinyl format consists of a simple 3mm square sleeve, a double-page insert printed on both sides in quadri color with gold pantone 974C, and an exclusive and limited gold vinyl with intense black marble details
Fabrication :
Magnifiques objets dont la cover est l'œuvre de Khaos Diktator et mis en page avec soin par notre graphiste Guillaume Tocco sur la base d'illustrations de Eoden et Daemonicreator.
Le format CD est composé d'un digipack 3 panels avec impression quadri et pantone doré 974C, et d'un plateau transparent + cd sur le panel central. Le troisième panel comprend une découpe triangle laissant apparaître les éléments graphiques de la quatrième de couverture du livret 12 pages glissé dans la pochette latérale, également imprimée en quadri et pantone doré 974C.

Le format vinyle est composé d'une simple pochette dos carré 3 mm, d'un insert double page tous deux imprimés en quadri avec pantone doré 974C, et d'un vinyle exclusif et limité doré intensément marbré de noir.