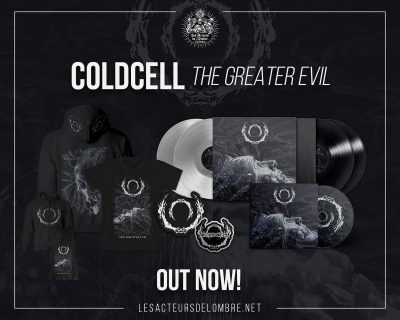 Le nouvel album du groupe suisse-allemand ColdCell est enfin disponible !
Ecoutez 'The Greater Evil' ici : https://fanlink.to/ccge
Vous pouvez le commander, avec du merch, ici : https://lesacteursdelombre.net/product-category/bands/coldcell/
L'album fait aussi partie de notre Coffret des Ombres du mois d'avril avec un patch et l'album 'Tome II' de Grave Circles : https://coffret.lesacteursdelombre.net/
Biographie
ColdCell a été fondé en 2012 à Bâle (Suisse) et a sorti son premier album « Generation Abomination » l'année suivante. ColdCell est ancré dans la scène black metal underground suisse et a toujours été désireux d'offrir des concerts sombres et atmosphériques. Adoptant un rythme de sortie bisannuel, le groupe a donné naissance à « Lowlife » en 2015, puis à «Those » en 2017. Chacune de ces œuvres a marqué une étape supplémentaire dans la progression et l'approfondissement de la vision de ColdCell sur l'obscurité, l'étrange et l'extrême. Le line-up originel n'a d'ailleurs connu que des changements mineurs au fil des ans. Le quatrième album du groupe, « The Greater Evil », sort sous la houlette du label Les Acteurs de l'Ombre Productions en 2021, un nouveau pas vers l'abîme sonore.
Merci à Black Metal Promotion, HARD FORCE, Shoot Me Again webzine, Friedhof Magazine, Greekrebels.gr [Official FanPage], Metalitalia.com, Zware Metalen et World Of Metal d'assurer l'exclusivité de cet album.
Artwork et design par Marcel Szerdahelyi et Pascal Brun.