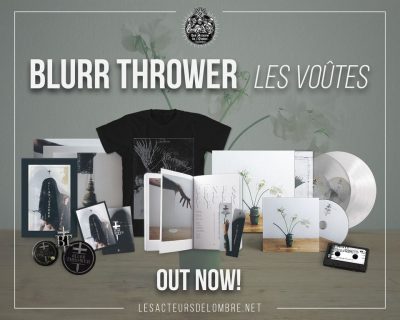 We celebrate today the release of Blurr Thrower's album 'Les Voûtes'!
The album is also part of our Coffret des Ombres of February along with a pin, an autographed artistic photo + Jours Pâles's new album + a 10% off coupon code on a selected list of about 100 black metal items of Season of Mist's shop (to be used from March 4th to April 4th):
https://coffret.lesacteursdelombre.net/coupons/
Also, Bandcamp Fridays are back! To support musicians and labels during Covid-19, Bandcamp are indeed waiving again their revenue share on all sales until tomorrow 9a.m. CET:
https://ladlo.bandcamp.com/album/les-vo-tes
Thanks to Atmospheric Black Metal Albums, metal.de, Thrashocore, Friedhof Magazine, World Of Metal, Metalitalia.com, Shoot Me Again webzine and Zware Metalen for premiering this full album!