We are glad to announce you that we will release, on May 31st, a split album between Darkenhöld and Griffon:
"The castle wanderers of Darkenhöld and valiant members of Griffon join their voices on a singular split CD halfway between an evening of tales and medieval song of heroic deeds. The first band lights a warm atmosphere where traditional tones summon legends and arouse a yearn for acoustic concerts. Their companions choose a more historical and warlike angle that suits their fiery black metal. Not without ending « Atra Musica » elegantly with a noble instrumental song though."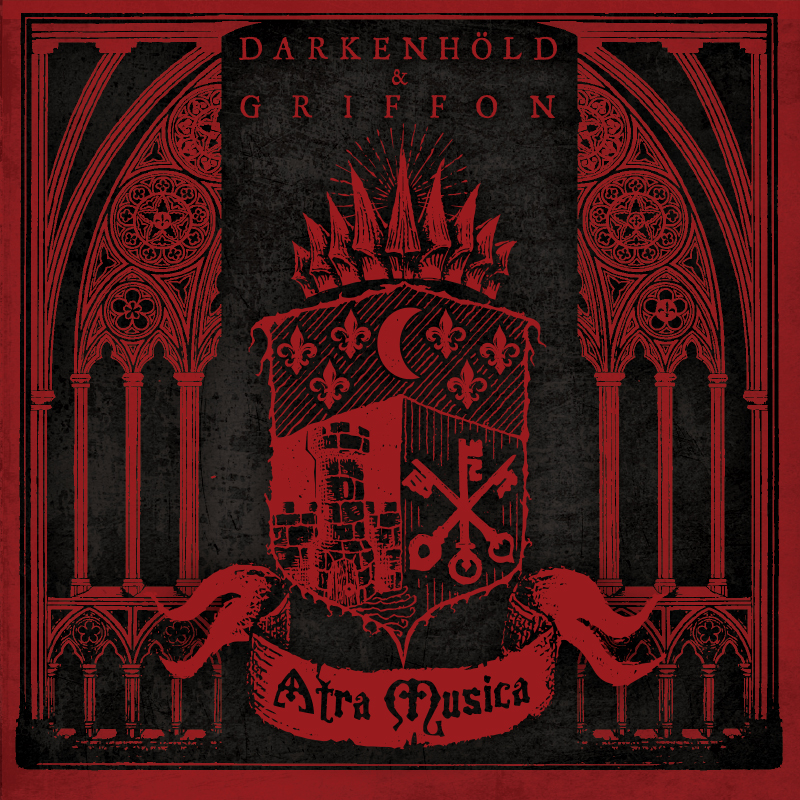 « Atra Musica » consists of eight tracks:
GRIFFON:
1 – Si Rome Vient à Périr
2 – Souviens-toi, Karbala
3 – Jérusalem
4 – Interlude
DARKENHÖLD:
5 – Marche des Bêtes Sylvestres
6 – Le Sanctuaire de la Vouivre
7 – Les Goules et la Tour
8 – Citadelle d'Obsidienne
Artwork by Tedd Luger
DARKENHÖLD Drums recorded at Sebastien Camhi's studio. Vocals recorded at Altherax Music
All other instruments recorded at Cryptic Studio. Mixed and mastered by Aldébaran & Darkenhöld
Special guests:
Alexis Bietti (Flute). Clélia Joncour (Cello). Alexandre Lenoir (Jaw harp). Aurélie Plonka (Violin).
Music by Aldébaran (except the last riff of « Le Sanctuaire de la Vouivre » by Mickaël Raverdino)
Lyrics by Cervantes
In 2008, Aldébaran (ex. ARTEFACT) and Cervantes joined their forces to create DARKENHÖLD with the aim to play authentic Medieval Black Metal. After two split-CDs, DARKENHÖLD released its first album "A Passage To The Towers". The band goes then away to defend its music in public, before beginning the writing process of the second opus. With "Echoes To The Stone Keeper", the band develops its universe, evocative power and sound signature: a melodic Black Metal made of foggy landscapes, ruins and mysterious medieval majesty. To conceive "Castellum" the band plunged into ancient times where legendary castles and fortresses were raised proudly to impose their magnificience. This third album gives a new life to the old stones that are full of history through a personal and imaginative work. "Memoria Sylvarum", the fourth opus, released in May 2017 (CD version), is an ode to solitary wanderings in the forest and forgotten ruins. This majestic Black Metal is a true invitation to a journey in these authentic places where myths and legends live on.
GRIFFON Drum Recorded at Studio Ragnarock
Vocals and Guitar Recorded by Tancrède
Mix/master : Déha
Lyrics and Vocals : Aharon
Music: Sinaï
Additionnal vocals: Sinaï / Déha
Guitar/ Bass : Sinaï
Drum: Kryos
Griffon was created by Aharon back in October 2012. Sinaï quickly joined the project. Between December and March 2012, Griffon composed five tracks (EP released in 2014). The demo « Que résonne le Cor » was recorded in March 2012. Griffon takes a complete line-up on. Griffon's first concerts occurred during autumn 2013. By the end 2013, the EP « Wig Ah Wag» was recorded. It was released in October 2014. Couillu left the band back then, and was replaced by Tancrede (Neptrecus, Normannorum). In January 2016, the album 'Har HaKarmel' was released on the label Hass Weg Production. Scalde left the band to be replaced by Kryos (Neptrecus / The Negation). Between 2016 and 2017, Griffon performed several times in France, especially at the Cernunnos Pagan Fest (9th edition), at the Ragnard Rock Festival (2nd edition), at the Feux de Beltane (2nd edition). The band roams around France next to Wyrms and Moonreich.In 2018, Tancrède left the band. Griffon then takes Antoine and Dino on.
__