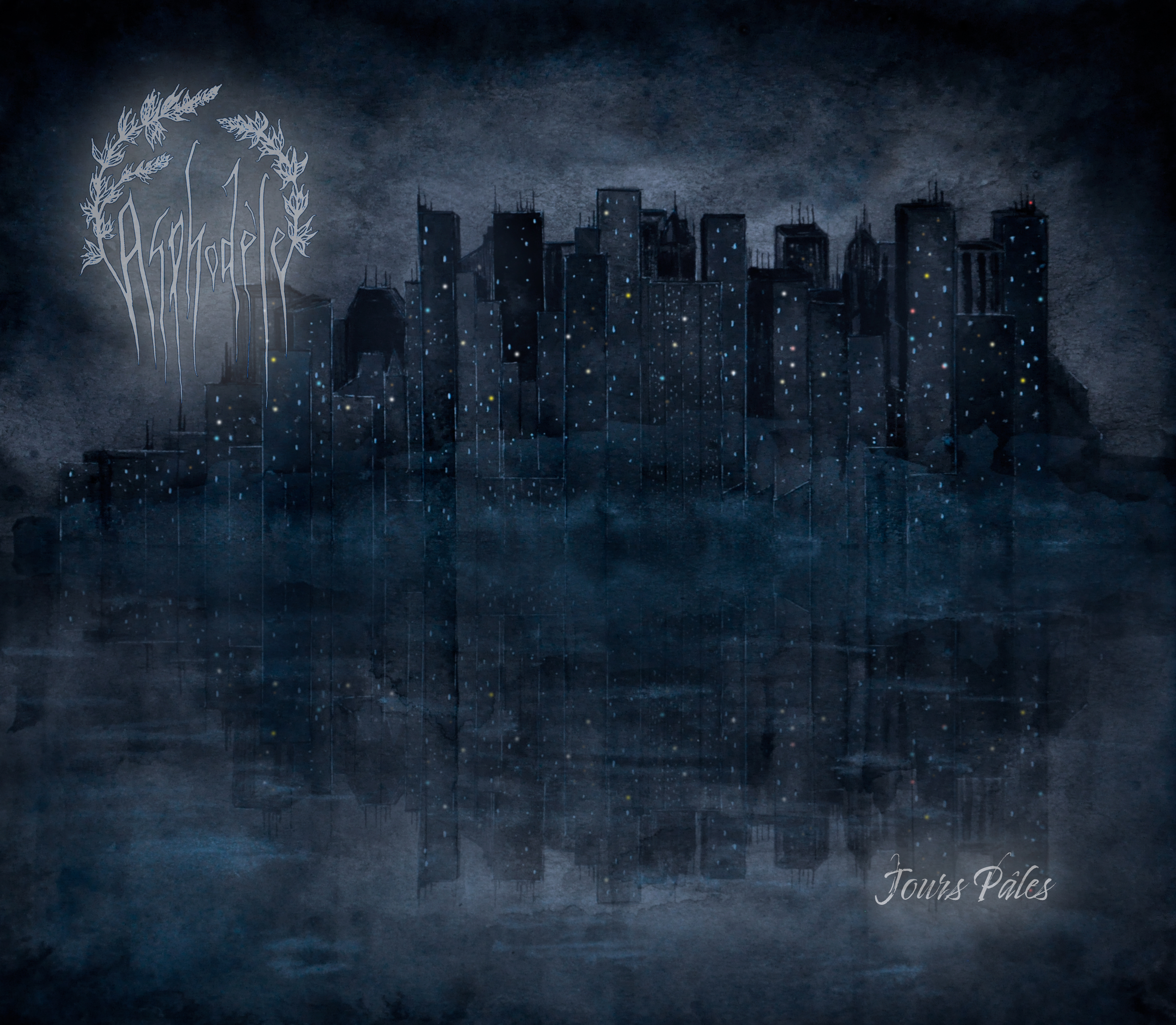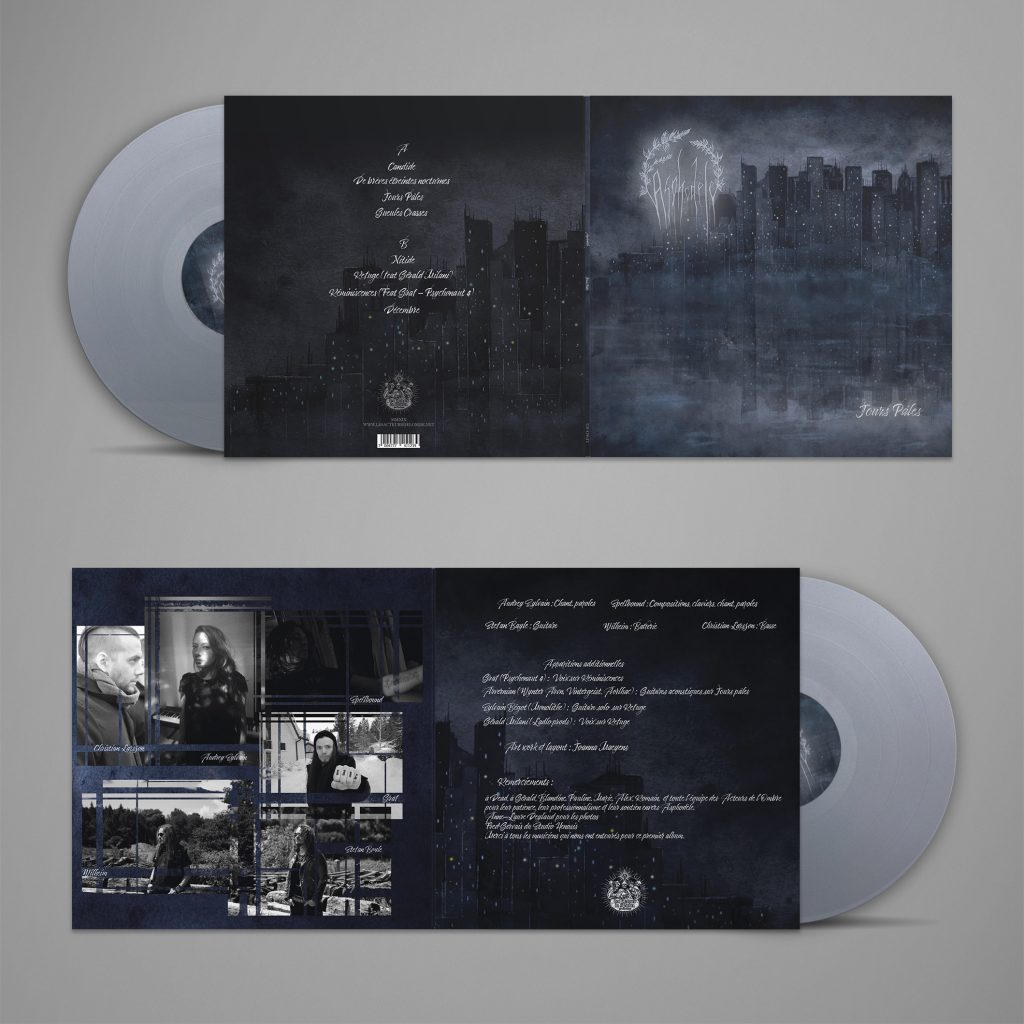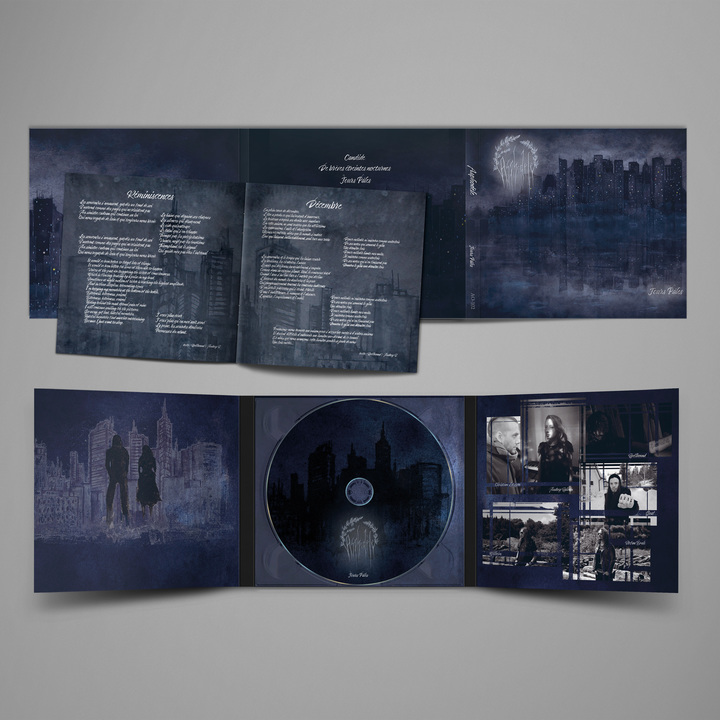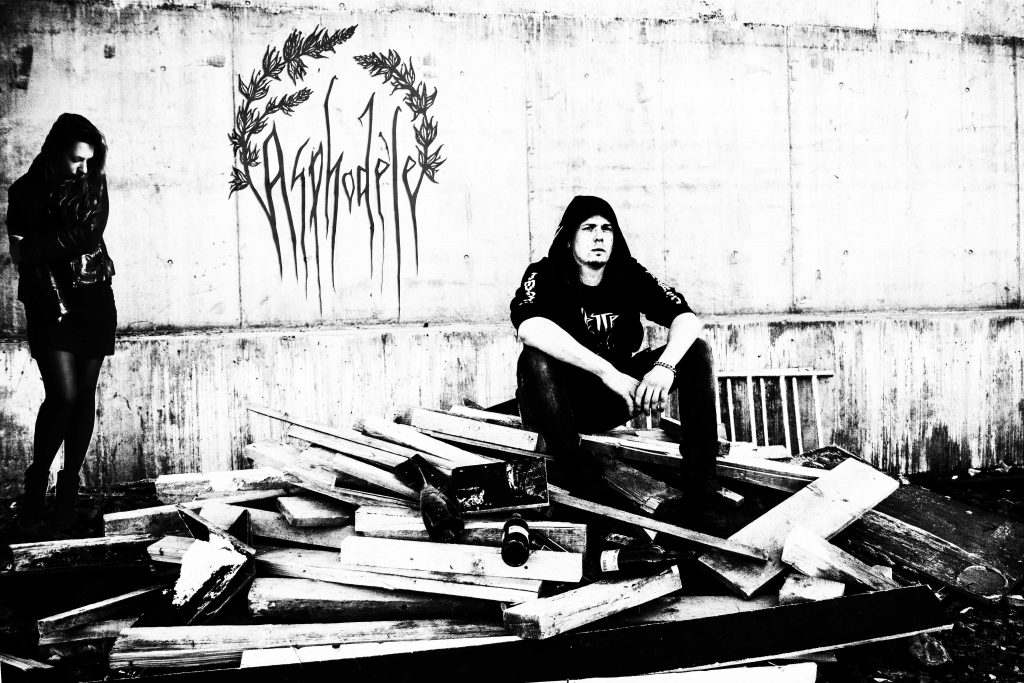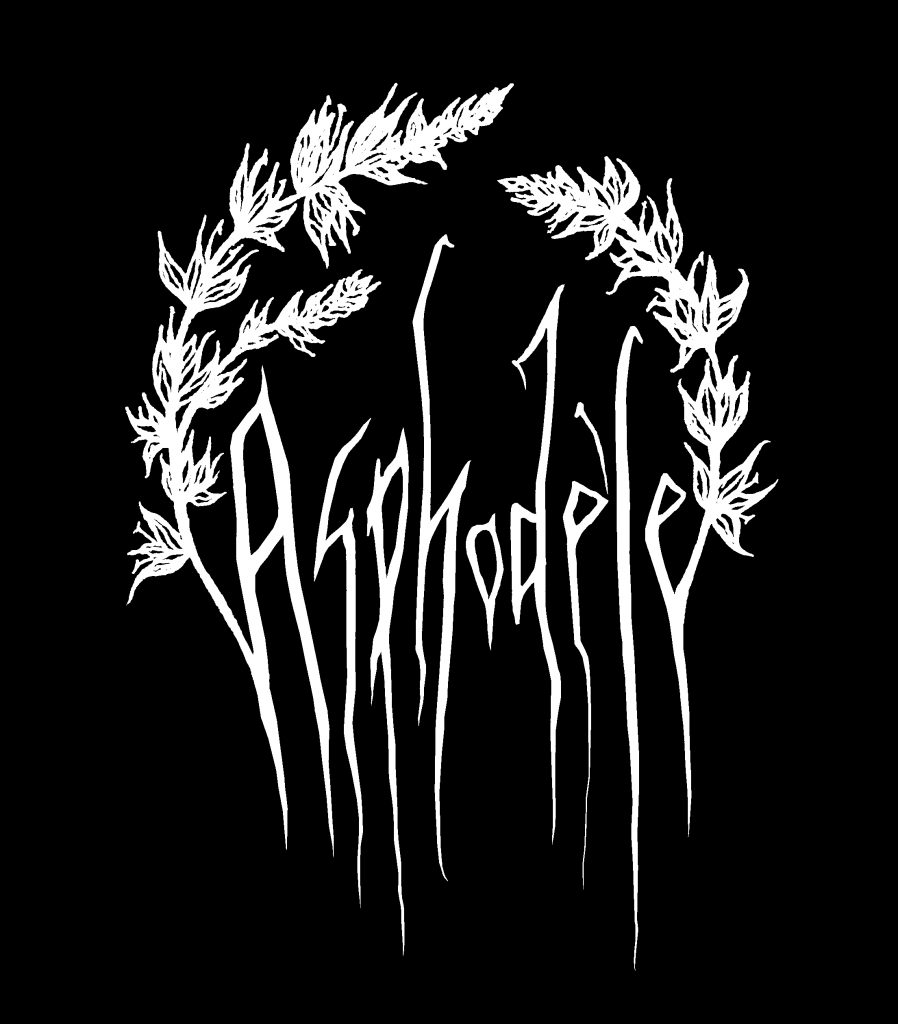 RELEASE DATE: 1st NOVEMBER 2019
ARTIST: ASPHODELE
TITLE: JOURS PÂLES
STYLE: Melancholic Black Metal
ORIGIN: FRANCE
DURATION: 39:02
LABEL : Les Acteurs de L'Ombre Productions
NETWORK DISTRIBUTOR: Season of Mist / Plastic Head
DIGITAL DISTRIBUTOR: The Orchard
DOWNLOAD Presskit/MP3:AT THE BOTTOM OF THE PAGE
Format
Catalog Ref.
Barcode
---
CD digipack
AO-102
7004932411234
LP
AO-103
7004777411239
1-Candide
2-De brèves étreintes nocturnes
3-Jours pâles
4-Gueules crasses
5-Nitide
6-Refuge
7-Réminiscences
8-Décembre
Asphodèle est un projet introspectif porté par les compositions de Spellbound, dont les vocaux sincères et sans concession au sein d'Aorlhac marquent les esprits depuis plus de dix ans déjà. La voix sibylline et hantée d'Audrey S., connue notamment pour ses participations passées dans feu Amesoeurs, dans K.P.N ainsi que son implication actuelle dans Malenuit, confère aux titres une aura toute singulière.
Leur rencontre a fait émerger le besoin d'exprimer leurs difficultés intérieures au sein d'un projet commun basé sur des expériences personnelles réciproques : une expression vitale et une résurgence prenant forme au travers d'une musique sincère, enveloppée d'une épaisse brume de dysthymie et d'un regard désabusé sur la vie.
Le duo a rapidement fait appel à des musiciens expérimentés et le line-up se voit renforcé par la présence en studio de Stefan (ex-Anorexia Nervosa, actuellement dans Au champ des morts) à la guitare et Sébastien (Au champ des morts) à la batterie. Christian Larsson (ex-Apati et Shining, actuellement dans Gloson) complète le line-up à la basse tandis que Graf (Psychonaut 4) gratifie le projet de sa présence en tant qu'invité spécial sur un titre.
Sorti chez les Acteurs de l'Ombre Productions, « Jours pâles » est ainsi le premier album d'Asphodèle avec huit titres mettant en avant un metal sombre aux influences diverses. Un triste écho à la déréliction, aux failles intérieures et à l'inadaptation, puisque l'on ne se rend des comptes qu'à la lueur du bilan final, celui qui vient balayer les dernières pudeurs…
Mot de Gérald, label manager
"Quand Spellbound d'Aorlhac m'a contacté pour me demander mon avis sur son projet solo encore à l'état de démo, je ne m'attendais à rien de particulier. Comme j'en ai l'habitude, et comme on me le demande régulièrement, je devais donner mon sentiment sur la musique. Spellbound m'avait prévenu : « Ce n'est pas pour LADLO, ce n'est pas vraiment votre créneau. »
QUOI ????? PUTAIN !!! J'adore !!! Oui, c'est vrai qu'on n'a jamais fait ce genre de musique, mais il y a clairement une filiation avec le black metal. Un retour à la fin des années 90 qui m'a fait penser à FORBIDDEN SITE, un groupe ayant marqué son époque avec un style black mélancolique unique et très français dans sa manière de sonner, de composer et de chanter !
ASPHODÈLE véhicule une énergie similaire, quelque chose d'authentique et de personnel. Une musique accouchée dans la douleur, pleine de sensibilité et de sens. Une bête qui sort des tripes, instinctive, pleine de colère, qui sonne comme une urgence vitale, viscérale et qui nous remue à l'intérieur. Même si l'ensemble reste très accessible avec une approche assez rock'n'roll, il s'en dégage une certaine folie, quelque chose de pur aussi, et une certaine innocence. C'est d'ailleurs là tout le charme, l'unicité de cet album. Pour moi, la voix si particulière d'Audrey S. en est l'une des parfaites illustrations. On tient là un bijou brut d'émotions et, personnellement, j'écoute de la musique pour vibrer et me sentir vivant. Mille mercis à Spellbound et à Audrey S. pour ce don d'eux-mêmes. Je suis, à titre personnel, très honoré et touché par leur confiance. Je n'ai qu'une hâte : que vous puissiez découvrir ce joyau tout droit sorti du cerveau de Spellbound, en partie interprété par les talentueux musiciens d'Au Champ Des Morts, mixé et masterisé au Studio Henosis avec génie par Fred Gervais. Un album à la croisée du rock, du black, du post-punk, avec une touche new wave. Pour les fans de musique mélancolique, voire dépressive, à la FORBIDDEN SITE, DEPECHE MODE et LIFELOVER."
Mot de Romain, directeur artistique
"Il fait nuit. Ou noir, tout au moins. Peut-être sommes-nous en plein jour. Je ne sais plus. Peut-être le soleil parvient-il à illuminer et éclairer ce monde. Je ne sais pas. Il semblerait que je sois toujours vivant, car j'éprouve encore ce sentiment, la peur. L'angoisse. À l'approche du spleen, dans la souffrance la plus totale, je ne me suis jamais senti aussi vivant. Ça je le sais. L'ennemi peut surgir à tout moment, trompant mes sens et se jouant de ma raison. C'est une douleur à retardement, lancinante, ce qui la rendrait presque supportable, attachante même. Ce n'est pas le monde ou le ciel qui sont noirs, mais bien le voile de ma propre bile. L'atrabile. L'origine de l'éloignement, du dégoût. Comme une irrépressible envie de dériver, de vagabonder, sans but, sans aucune promesse. Sans espoir. Comme un besoin abrutissant d'user cette angoisse en m'éloignant. Une pulsion primitive qui me pousse à les fuir, tous, pour tenter de les retrouver, un à un. Me coucher sur la terre humide. Et couler. Avec eux, avec toi. Couler."
Asphodèle is an introspective project led by the compositions of Spellbound, whose sincere and uncompromising voice has been resonating in people's mind since more than a decade through Aorlhac's albums. The sibylline and haunted vocals of Audrey S., known for her past work in late Amesoeurs and in K.P.N and current involvement in Malenuit, adorn the songs with a truly unique aura.
Their encounter brought out the need to express their inner conflicts through a common project based on shared intimate experiences: vital impetus and resurgence taking shape in a sincere music enfolded in a thick mist of dysthymia and disillusioned look at life.
The duet quickly hired experienced musicians and their line-up was eventually strengthened by Stefan (former Anorexia Nervosa, currently in Au champ des morts) and Sébastien (Au champ des morts), playing respectively guitar and drums in studio. The project became complete with the bassist Christian Larsson (former Apati and Shining, currently in Gloson) and Graf (Psychonaut 4) as special guest on one song.
Released by the Acteurs de l'Ombre Productions label, "Jours pâles" ("Wan days") is Asphodèle's first album. Eight tracks that highlight a dark metal inspired by various influences just reflecting with sadness our inner cracks and feeling of dereliction and inadequacy. For we're not truly aware before looking back on our existence, the last glance tearing our blinders apart…
Words by Gérald, label manager
"When I was contacted by Spellbound from Aorlhac to give him my opinion about his solo project, still at a draft stage, I didn't have any specific expectation. I was only supposed to speak my mind about some songs just like I'm used to and frequently asked to. Spellbound warned me by telling me it wasn't fit for LADLO since it differs from our usual trade.
WHAT????? I JUST FUCKING LOVE IT!!! It's true we have never released this type of album before but there's an obvious connection with black metal. It brought me back in the 90's and reminded me of FORBIDDEN SITE, a band that made a strong impression at that time with its melancholic black metal and had a very unique and French way to sound, write and sing!
ASPHODÈLE conveys a similar energy, something authentic and personal. A music that was brought into this world in suffering, very sensitive and meaning so much. Some kind of instinctive beast full of anger emerging from one's guts, which sounds like a vital and visceral need, moving the listener deep down. Although the whole work is very understandable with a rather rock'n'roll approach, it exudes some madness, something pure too and some innocence in which this album's attraction and consistency lay. I think Audrey S' very distinctive voice is one of the best examples of it. We got a rough diamond full of emotions here and, as far as I'm concerned, I listen to music to be touched and feel alive. Thank you from the bottom of my heart to Spellbound and Audrey S for putting so much of themselves into this and offering it to us. I'm deeply honored and moved by their trust. I can't wait for you to discover this jewel straight from Spellbound's mind, some parts of it played by Au Champ Des Morts' gifted musicians, brilliantly mixed and mastered at the Henosis Studio by Fred Gervais. An opus mixing rock, black metal, post-punk with a touch of new wave. For fans of sad or even depressive music close to FORBIDDEN SITE's, DEPECHE MODE's and LIFELOVER's style"
Words by Rom, artistic director 
"It's night. Or dark, at least. Maybe we are standing in broad daylight.
I don't know anymore. Maybe the sun manages to illuminate and enlighten this world. I don't know. It appears I am still alive, for I am still having this feeling, of fear. Of anxiety. When the spleen is coming, in the most absolute suffering, I have never felt so alive. This, I know.
The enemy can arise at any time, fooling my senses and pulling my mind's strings. It is a time delay pain, throbbing, which would make it almost bearable. The world or the sky are not black, it is the veil of my very own bile. Melancholia. The origin of alienation, of disgust. Like an irrepressible desire to drift away, to wander, aimlessly, without any promise. Without any hope. Like a dazing need to exhaust this anguish by getting away. A primitive urge that leads me to run away from them, all of them, to try to find them again, one by one. Lying beneath the moist earth. And sinking. With them, with you. Sinking."
Audrey S. – Vocals
Spellbound – Vocals, keyboards
Stefan Bayle – Guitar Ex Anorexia Nervosa, Au champ des morts)
Christian Larsson – Bass guitar (Ex Apati, ex Shining, Gloson)
Sébastien Papot – Drums (Au champ des morts)
Music y Spellbound
Lyrics by Audrey S & Spellbound
Mastering: Studio Henosis
Artwork by Joanna Maeyens
Jours ¨Pâles, full length, 2019 – CD digipack & LP