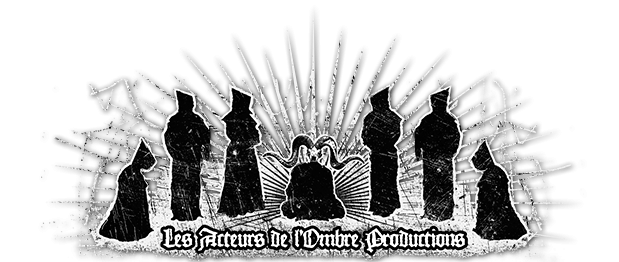 LADLO FEST – 20th year anniversary
Some of you may have attended the first edition of the LADLO Fest or the LADLO IN PARIS festival. This new edition will be the opportunity to gather once again and spend memorable moments.
It celebrates the 20th anniversary of the association Les Acteurs de L'Ombre – 20 years of passion, 20 years of surprises, 20 years of devotion, 20 years of work and pleasure, 20 years of memories, 20 years of stress, 20 years of hardships, 20 years of encounters, 20 years of collaborations, 20 years of friendships, 20 years of discoveries, 20 years of watch, 20 years of adrenaline, 20 years of excitement, more than 120 concerts and festivals, and over 100 bands on stage.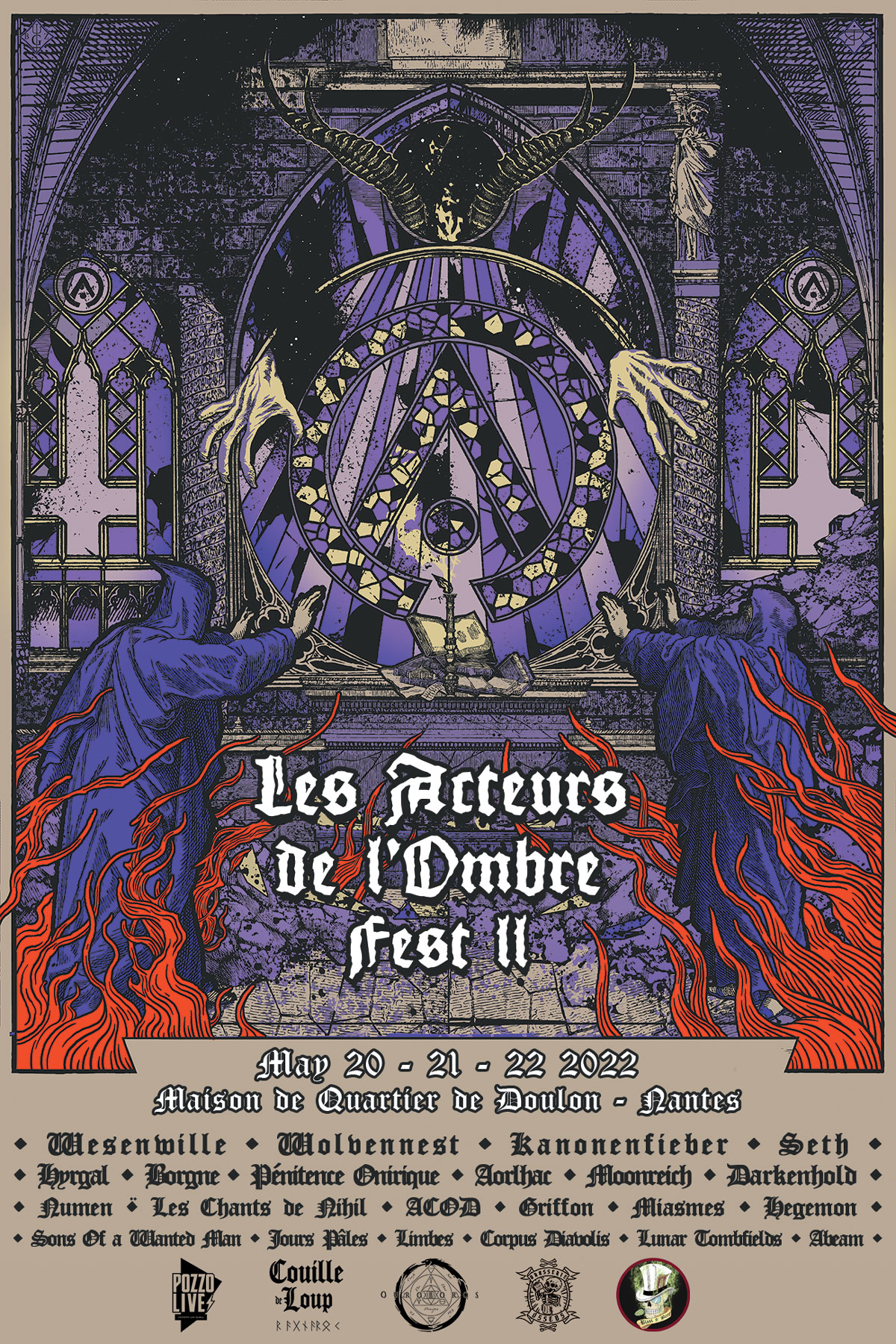 LADLO FEST – 20th year anniversary

---
20, 21, 22 Mai 2022
Maison de quartier de Doulon – Nantes
With Blast'n'Beer, TYRANT BREWERY, Brasserie Osseus, Couille De Loup and Brasserie Ouroboros breweries
If you already have a ticket for the LADLO Fest II, it is automatically renewed to be valid in 2022. However, if you want a refund, please write to us by email at prod@lesacteursdelombre.com providing your booking email.
Vendredi 20 mai
23h05/00h00 KANONENFIEBER
21h55/22h35 ACOD
20h45/21h25 CORPUS DIAVOLIS
19h35/20h15 LUNAR TOMBFIELDS
18h30/19h05 ABEAM
Samedi 21 mai
00h00/01h00 WOLVENNEST
22h30/23h20 WESENWILLE
21h10/22h00 HEGEMON
19h55/20h40 HYRGAL
18h40/19h25 BORGNE
18h15/18h35 CONTES par Quentin Foureau
17h30/18h10 NUMEN
17h05/17h25 CONTES par Quentin Foureau
16h20/17h00 SONS OF A WANTED MAN
15h10/15h50 JOURS PALES
14h00/14h40 MIASMES
Dimanche 22 mai
22h15/23h15 SETH
20h45/21h35 AORLHAC
19h25/20h15 PENITENCE ONIRIQUE
18h10/18h55 MOONREICH
17h45/18h05 CONTES par Quentin Foureau
17h00/17h40 DARKENHOLD
16h35/16h55 CONTES par Quentin Foureau
15h50/16h30 LES CHANTS DE NIHIL
14h40/15h20 GRIFFON
13h30/14h10 LIMBES
RESPECT DES LIEUX ET DES PERSONNES
-Durant le week end, tout comportement discriminant, irrespectueux ou provocateur quelle qu'il soit et envers qui que ce soit entraînera une expulsion de l'événement.
-Dans les espaces communs, y compris dans le parc extérieur : respect du voisinage, pas de dégradation et pas de déchets au sol.
-Possibilité de dormir dans les fourgons sur le parking. Interdiction de planter des tentes sur la pelouse.
-Afin de désengorger les toilettes intérieures, nous mettrons à disposition des urinoirs à l'extérieur.
MODE DE PAIEMENT
Il n'y a pas de distributeur de billets à proximité de la salle. Si vous désirez payer vos consommations et achats divers en liquide, soyez prévoyant.
RESTAURATION
Foodtruck Tonton et Lulu : spécialités hanburgers
Foodtruck Pizza à Gogo: Glaces et confiseries inuits
https://www.pizzsagogo.com/
BOISSONS
Bières : Nos partenaires brasseurs Couille de Loup, Ouroboros, Blast'n'Beer et Osseus vous proposeront une sélection fournie de bières artisanales et pour certaines, spécialement imaginées et brassées pour l'occasion.
https://www.ouroboros.beer/FR/
https://www.facebook.com/Blast-nBeer-105097381549645
https://www.facebook.com/brasserieosseus
Cafés de spécialité et boissons gourmandes: Justine, Kévin et le truck Call of coffee vous proposeront un lieu atypique et chaleureux dédié au café de spécialité mais également des boissons gourmandes ainsi que du chocolat chaud, thé, tisane.
https://www.facebook.com/callofcoffee
Softs : au bar
Les préventes  sont terminées !
Vous n'avez pas de prévente ?
Des places sont disponibles le jour même au guichet billeterie. 
(Cash et CB acceptés)


A demain !
STANDS
STAND GROUPES: Chaque groupe proposera ses articles à la vente en exclusivité le jour de sa prestation.
Le stand LADLO vous proposera (réduction de 20% pour les membres de la nuée des Ombres) :
-L'ensemble des articles phonographiques disponibles sur le shop en support cd, cassette et vinyle.
-Une sélection de notre merch (tish, débardeur, hood, pins et patch) groupes et LADLO.
-Les sérigraphies 50cm x 70cm disponibles sur le shop.
-Une partie de nos articles phonographiques en distribution.
-Quelques exemplaires de nos dernières box encore disponibles.
-Les dernières bières Odïum et Yersinia en vente en emporter à récupérer à la fin de chaque journée.
LES ARTISTES PRESENTS
ILLUSTRATION
David Thiérrée et Joanna Maeyens se feront un plaisir d'échanger avec vous et présenter leurs illustrations qui seront en vente sur leurs stands.
Joanna Maeyens : https://www.facebook.com/profile.php?id=100044947975887
David Thiérrée : https://www.facebook.com/davidthierreeartwork/
TATOUAGE
Venu de l'est de la France, le talentueux tatoueur Simon Chognot, spécialisé dans le style gravure, nous fera le grand honneur de sa présence pour vous proposer ses services. Nombres de places très limitées.
https://www.facebook.com/simonChognot
CONTE
Quentin Foureau, connu comme le loup blanc jusqu'aux contrées les plus lugubres et hostiles de Bretagne, et même au delà des frontières de l'imaginaire diabolique et puant, s'installera sur la pelouse pour vous conter des histoires avec la ferveur et le tallent que nous lui connaissons. Participation au chapeau si cela vous a plus.
https://www.facebook.com/quentin.foureau
Maison de quartier Doulon
1 rue de la Basse-Chesnaie
44 300 Nantes
Covoiturage à prioriser pour ne pas saturer le parking de la maison de quartier de Doulon et les places de parking dans la rue Basse Chesnaie.
TRANSPORTS EN COMMUN
En Journée
– bus 87 – arrêt Colinière
– bus 12 – arrêt Colinière
– Tram ligne 1 (arrêt Landreau à 20 min à pied)

En soirée:
– Tram ligne 1 en direction du centre ville (arrêt Landreau à 20 min à pied)
Vendredi 20 mai > dernier tram ligne 1 à 00:25
Samedi 21 et Dimanche 22 Mai > dernier tram ligne 1 à 1h25 et 2h25
ACCOMODATION
---
We advise you to book your accommodation as soon as possible, as other events are taking place in the area on the same dates!